Charleston Medical Malpractice Lawyer
South Carolina Doctor Error Attorney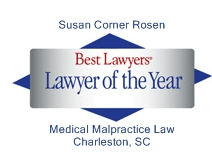 Ask any tort reformist and they will tell you: frivolous lawsuits have made healthcare in the United States unaffordable, have left millions of Americans uninsured, and have driven many of our nation's best and brightest away from medical practice. Shaking their heads and bemoaning the situation, they will look you in the eye and state in no uncertain terms: something has to change.
They are right, something does. And in our opinion, honesty would be a good place to start. Most medical malpractice lawsuits are not frivolous, and lawsuits are not the cause of these problems. Lawsuits can help change the way medical providers care for their patients. Lawsuits can help make health care providers act responsibly and carefully to provide medical care that is safer for their patients.
Recent studies indicate that over 1,000,000 people each year may be injured by medical malpractice. If you believe that malpractice may have occurred to you or a loved one, contact our Charleston, South Carolina, law office and talk to an experienced lawyer.
At the Rosen Law Firm, we know how tough it is to win medical malpractice cases in today's political climate, but that has done nothing to stop us from consistently achieving results anyway. However, because finding an expert physician who is willing to testify that a fellow doctor was negligent is a legal requirement for these cases, it is important to start investigating and building a strong case as soon as possible.
As a firm, we represent clients from throughout South Carolina who have been injured or killed as the result of:
Failure to diagnose cancer
Misdiagnosis/delayed diagnosis
Surgical error
Emergency room doctor error
Nursing medication error / anesthesia error
Improper treatment of medical conditions
Our medical malpractice cases are handled by Attorney Susan Rosen. A member of the Million Dollar Advocates Forum®, Ms. Rosen has obtained some of this state's largest personal injury and medical malpractice awards to date, including a $7,000,000 verdict in a 2002 Greenville County case involving a failure to diagnose colon cancer and the representation of a family in their claim involving catastrophic injuries to a newborn child caused by the failure to perform an emergency cesarean section delivery which resulted in a settlement of $4 million with a hospital and physician group. Although the $7 million verdict was later reduced to $3,500,000 due to a finding of the plaintiff's contributory negligence, we believe this case and other verdicts, settlements, and successes we have had in this area speak volumes about our capabilities as a firm.
Contacting Our Tri-County Area Law Office
To learn more about medical malpractice, the law, and what your legal rights are, call us in Charleston, South Carolina, at 1-843-377-1700 or contact us via e-mail to arrange a free consultation. We are available for evening and off-site appointments and handle all physician mistake and hospital malpractice cases on contingent fee basis. You pay no attorneys' fees unless we obtain a verdict or settlement in your case.